The Benefits of Professional Carpet Cleaning
As a homeowner, you know the importance of keeping your living space clean and well-maintained. From dusting and vacuuming to deep cleaning the kitchen and bathroom, you do everything you can to make sure your home looks and feels its best. But have you given much thought to your carpets? It's easy to overlook these soft and plush surfaces, but they play a significant role in the look and feel of your home. In this post, we'll be discussing the benefits of professional carpet cleaning and why you should consider UCM Carpet Cleaning of Plainfield for your home's carpet cleaning needs.
Thorough and Effective Cleaning by Professional Carpet Cleaners
Professional carpet cleaners, like UCM Carpet Cleaning of Plainfield, offer comprehensive cleaning processes that go beyond what regular vacuuming can achieve. When you hire our services, our team begins with a pre-inspection to identify areas that require special attention. Next, we use powerful vacuums to remove loose dirt and debris, preparing the carpet for pre-treatment.
Our hot water extraction method, commonly known as steam cleaning, ensures a deep and effective cleanliness. By injecting hot water and specially formulated cleaning solutions into the carpet fibers, we can dislodge embedded dirt and stains. The extraction process then removes these contaminants along with excess moisture, leaving your carpets fresh, clean, and dry.
Significance of Clean Carpets for Indoor Air Quality and Health
Carpets play a crucial role in trapping airborne particles like dust, pet dander, allergens, and pollutants. While this is beneficial in preventing these particles from becoming airborne again, it also means that over time, carpets can become laden with these contaminants. Unclean carpets can contribute to poor indoor air quality, which can affect your family's health, especially those with allergies or respiratory conditions.
Professional carpet cleaning by UCM Carpet Cleaning of Plainfield removes these trapped pollutants, contributing to better indoor air quality and a healthier living environment. Our thorough cleaning process ensures that your carpets are free from harmful allergens and particles, reducing the risk of respiratory issues and allergies.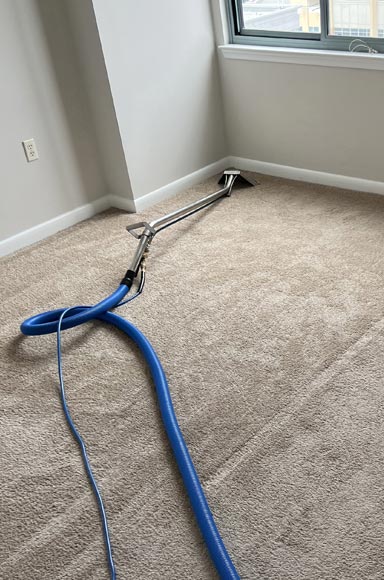 Removal of Allergens, Dust Mites, and Bacteria
Dust mites and bacteria frequently make their homes in carpet fibers, contributing to allergic reactions and other health issues. Our specialized cleaning processes ensure that these allergens and germs are removed, offering allergy relief, and lowering the risk of infection. Our team is prepared to remove even the most tenacious allergens, leaving your carpets clean and safe for your family.
Restoration of Carpet Appearance and Longevity
Daily foot activity, spills, and stains can wear down your carpets, making them appear drab and old. Not only do our professional cleaning services remove stains and filth, but they also restore the carpet's natural beauty.
Regular professional cleaning not only improves the appearance of your carpets but also increases their lifespan. You can safeguard your carpet from premature wear and tear by investing in professional care, saving money on replacement costs.
Convenience and Time-Saving Aspect of Professional Cleaning
Hiring expert carpet cleaners from UCM Carpet Cleaning of Plainfield is a time-saving and handy solution. Carpet cleaning can be a time-consuming task, especially in bigger homes or business settings. Our crew handles every element of the cleaning procedure, allowing you to concentrate on other aspects of your life.
Our well-trained staff arrives fully equipped, avoiding the need for you to rent or purchase costly cleaning machinery and chemicals. By using our services, you may have peace of mind knowing that your carpets are in the hands of professionals that offer remarkable results.
Why Choose Professional Services for Carpet Cleaning?
Choosing professional carpet cleaning services like UCM Carpet Cleaning of Plainfield offers a host of advantages:
Expertise: Our skilled technicians possess in-depth knowledge of various carpet types and the most suitable cleaning methods for each.
Time and Effort Saving: We take care of all the cleaning tasks, allowing you to focus on more important matters.
Advanced Equipment: Our state-of-the-art cleaning equipment ensures efficient and effective results.
Stain Removal: Stubborn stains are no match for our specialized cleaning solutions.
Healthier Living Spaces: Our cleaning methods eliminate allergens and bacteria, promoting a healthier home environment.
Transform Your Home with Professional Carpet Cleaning Services from UCM Carpet Cleaning of Plainfield
Professional carpet cleaning is essential for maintaining your home's cleanliness, indoor air quality, and overall appearance. With UCM Carpet Cleaning of Plainfield, you can enjoy the benefits of thorough and effective cleaning, removal of allergens and pollutants, restoration of carpet appearance, and convenience and time-saving services. Contact us today at 908-301-6333 to schedule your carpet cleaning appointment and experience the difference in your home's cleanliness and comfort.